Short-Term & Long-Term Sydney Airport Parking Services
Travelling for a long period, for instance, 7-10 days, can make you think twice about the safety of your vehicle. You get a few choices when it comes to extended long-term car parking facility but have you ever considered the advantages or the disadvantages of each option available for Sydney Airport Parking? When you are leaving Sydney for an extended period and need to park your car at a safe, affordable and convenient place near airport terminals, Air Travel Parking is the perfect place to park. We offer a completely safe and convenient long-term and short-term Sydney airport parking facility with free shuttle drop-off and pick-up services to and from the domestic and international airport.
The Options for Sydney Airport Transfer and Airport Parking
The advantage of the airport parking at Sydney Airport, it is within walking distance, and you can reach your car in a minute or two after landing. The main disadvantage is that you will spend at least $70 per day by parking at Sydney airport's parking. However, when you park with Air Travel Parking, we are just a short distance away from the airport, we offer an affordable flat rate of (from) $15 / day and you can enjoy our complimentary free Sydney airport bus shuttle service. If you are in a rush and cannot wait for the shuttle service, the terminals are all within walking distance. Our car park is also well-lit and equipped with 24 / 7 surveillance cameras so you can be assured that your car is safe when it is parked with us.
The Shuttle Buses from the Airport
Various companies operate shuttle buses in Sydney from several areas. You may board one of the shuttle buses from your doorstep to the airport and do the same when you have returned.
There are several people who opt for airport shuttle instead of the parking stations because they consider parking to be very expensive at Mascot. For instance, you might live in Neutral Bay and wish to take your family to Melbourne to visit relatives during the weekend. This would most likely cost around $125 when you book for a return Sydney Airport shuttle, and you might be charged extra if there's any additional detours deviation along the way.
While the airport shuttle alternative seems to be cheaper than any parking station, there are some disadvantages to using shuttle services.
The main disadvantages of taking a shuttle to the airport are:
You will have to travel with several strangers
The booked shuttle will also have to take detours to pick up people from their homes on the way to the airport
You might get stuck in traffic or face something unforeseen and be late for your flight
While you return, you have to wait until the other flights have landed and the passengers who have booked the same shuttle to pick up their luggage
If your phone runs out of battery, then the shuttle driver has to look for you and the same applies if the driver cannot contact the other people who have booked the same shuttle as you
The shuttle will drop the passengers off to their homes, and you will have to wait even longer to get home which is even worse if you are the last to be dropped off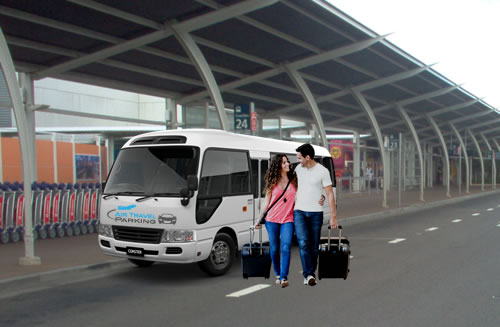 Although the airport shuttle services offer decent services and are the cheapest option, it might make your journey troublesome, and you may also end up paying more or an amount similar to what you would have paid for a taxi or UBER.
Why experience all of that when you can travel to the airport in the conform of your car and park within close proximity of the airport with Air Travel Parking then enjoy a free ride on our shuttle to the airport and back. You will be stress-free knowing that you are in control of your journey and do not need to waste time by travelling and waiting for strangers.
Alternatively, when you book with Air Travel Parking, you will only have to pay approximately $10 in tolls, $20 for the petrol needed to reach the airport and $30 for two days to park your car with us. Once you have arrived at our car park, you have the comfort and peace of mind knowing that your vehicle is securely parked and that you have access to a free shuttle to and from the airport which is included in price to park your car.
Your Return Journey
While returning, we will be waiting to pick you up from the airport as scheduled and return you to your parked car so that you can drive safely back home. Even better, if you booked our car wash service, your car would be washed before you return, and you can drive home in a freshly washed car.
Air Travel Parking is one of the most trusted Sydney airport parking services within close proximity to the Sydney Airport. We are not just close to the Airport but also offer the best cheap flat rate for parking that includes free shuttle. Air Travel Parking is the most convenient and affordable option available. Park your car with us and enjoy the free shuttle service and peace of mind knowing that your vehicle is safe and secure.